Woom 2 lightweight kids' bike
Learning to ride a bike is as easy as one, two, three
Finally learning how to ride a bike makes children's eyes sparkle with joy! The woom 2 makes it easy for kids aged three years and older to switch from a balance bike to a pedal bike without having to use counterintuitive stabiliser wheels. In no time at all, kids intuitively learn the skills they need to ride: pushing the pedals, resting their feet and balancing. With a woom bike, an important moment in childhood becomes unforgettable!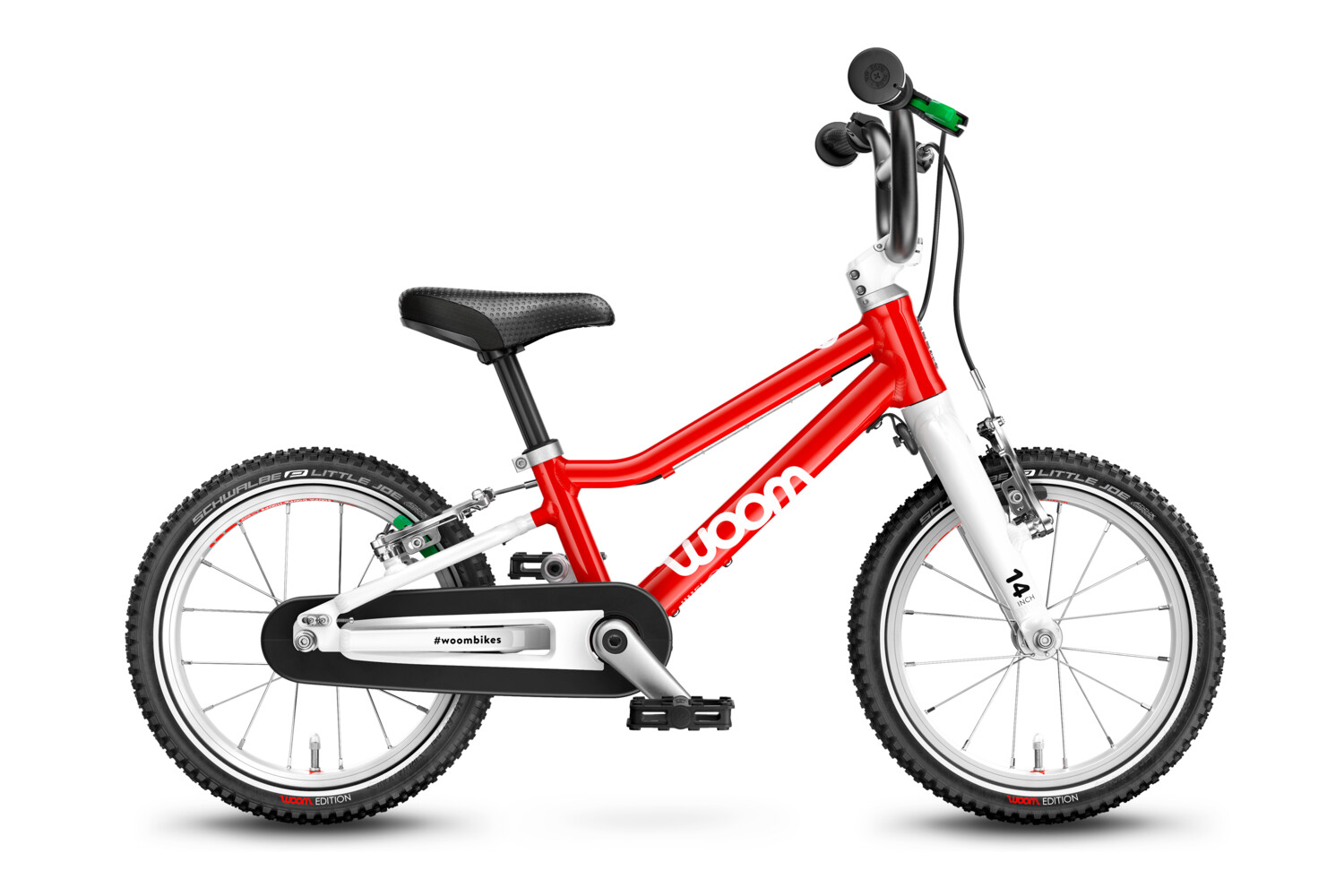 woom frame
The superlight aluminium frame is the heart of the bike and ensures a fun and safe riding experience. Thanks to its cleverly designed age-specific geometry, the motto of this bike is: superlight = superfun!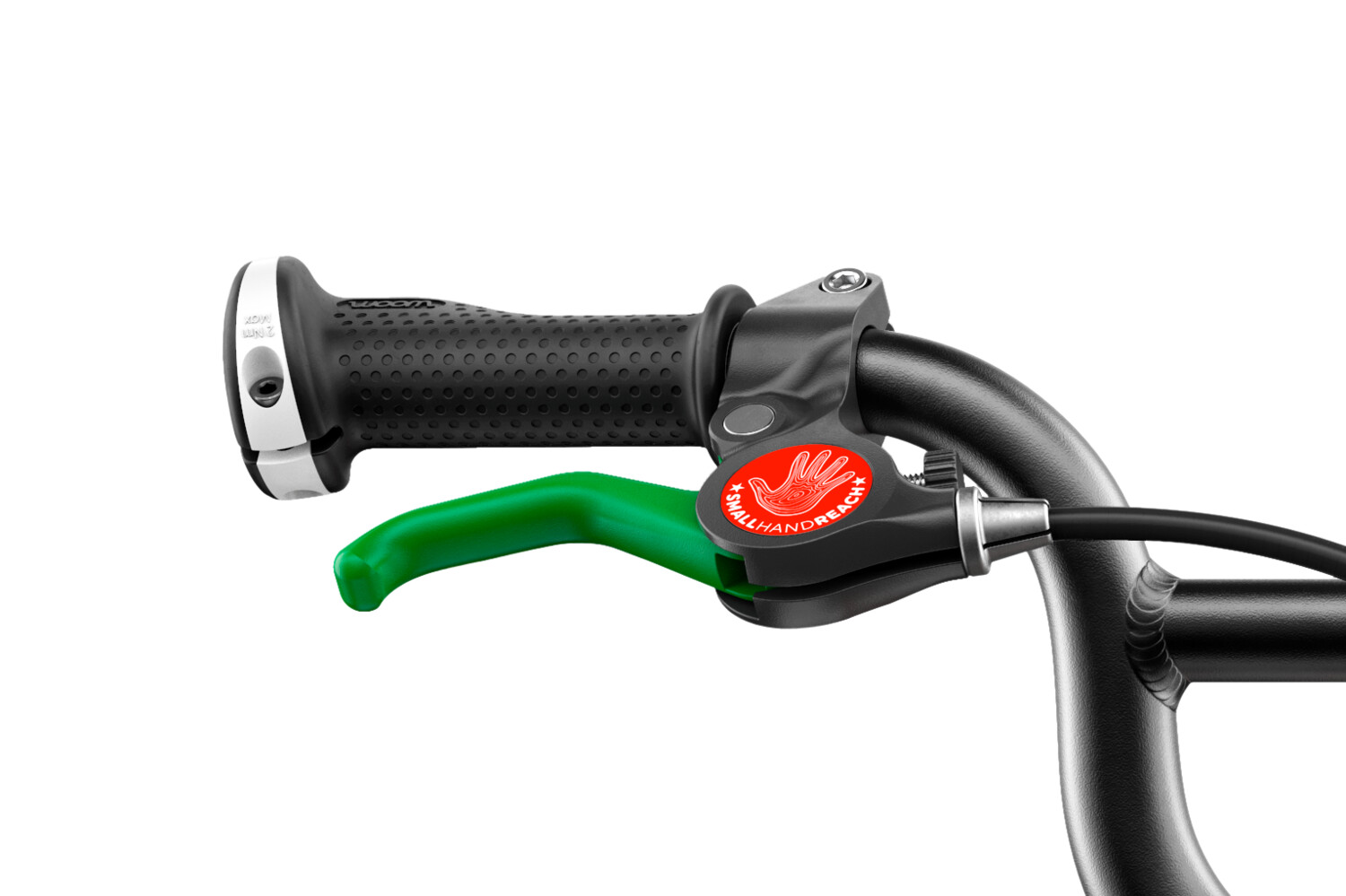 Brake
Kids immediately recognise the important rear brake thanks to the eye-catching green brake lever. This colour code system prevents them from mixing up the brakes and thus increases their safety. The specially designed brake lever is easy to pull with small hands and requires little strength to bring the bike to a safe halt. This, combined with the ergonomically designed grips, makes the process of stopping child's play.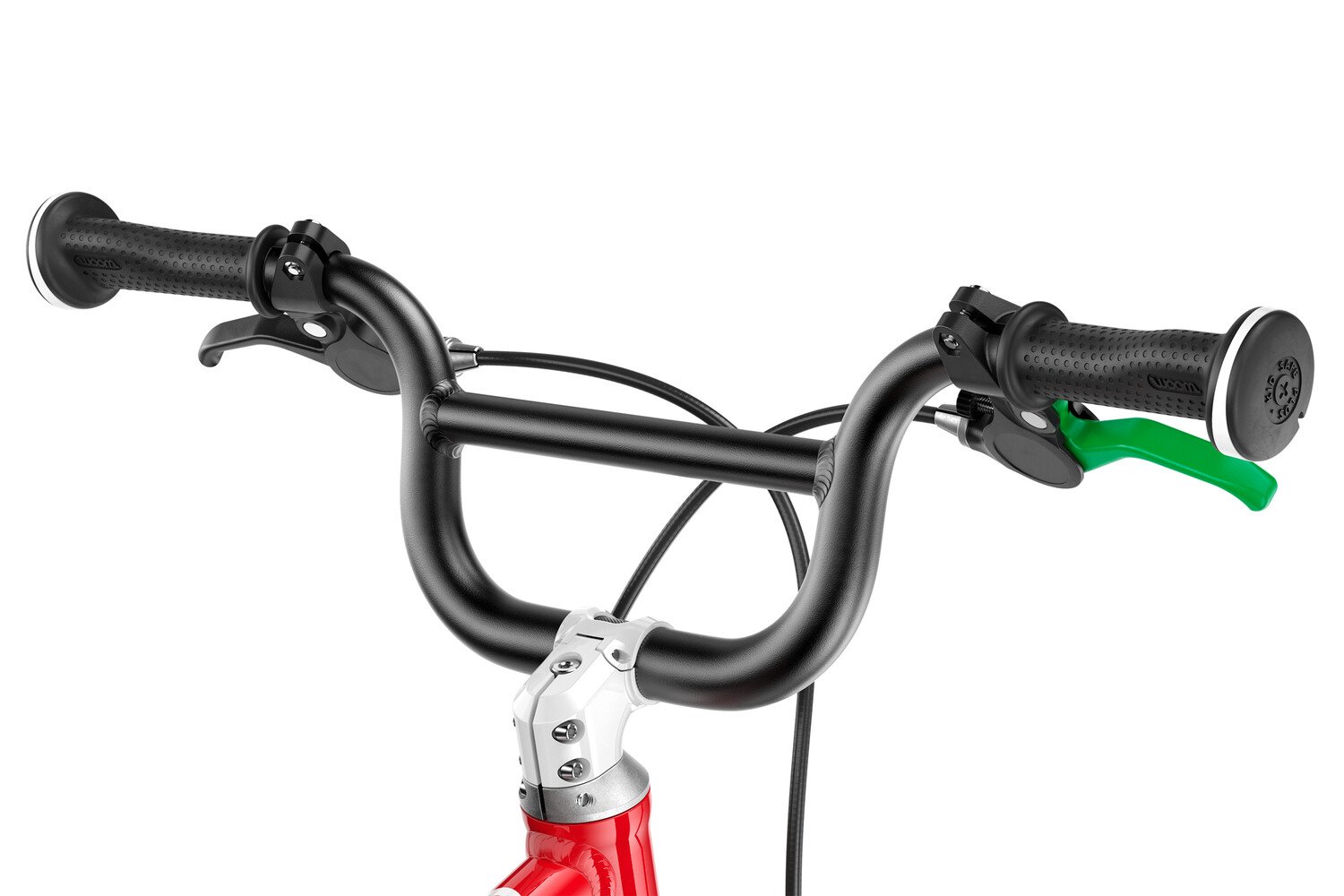 woom stem
The woom stem is the safe and lightweight connection between the handlebars and the headset. The sleek, rounded design, the integrated handlebar clamp and the recessed clamp bolts make it a trusty "knee saver".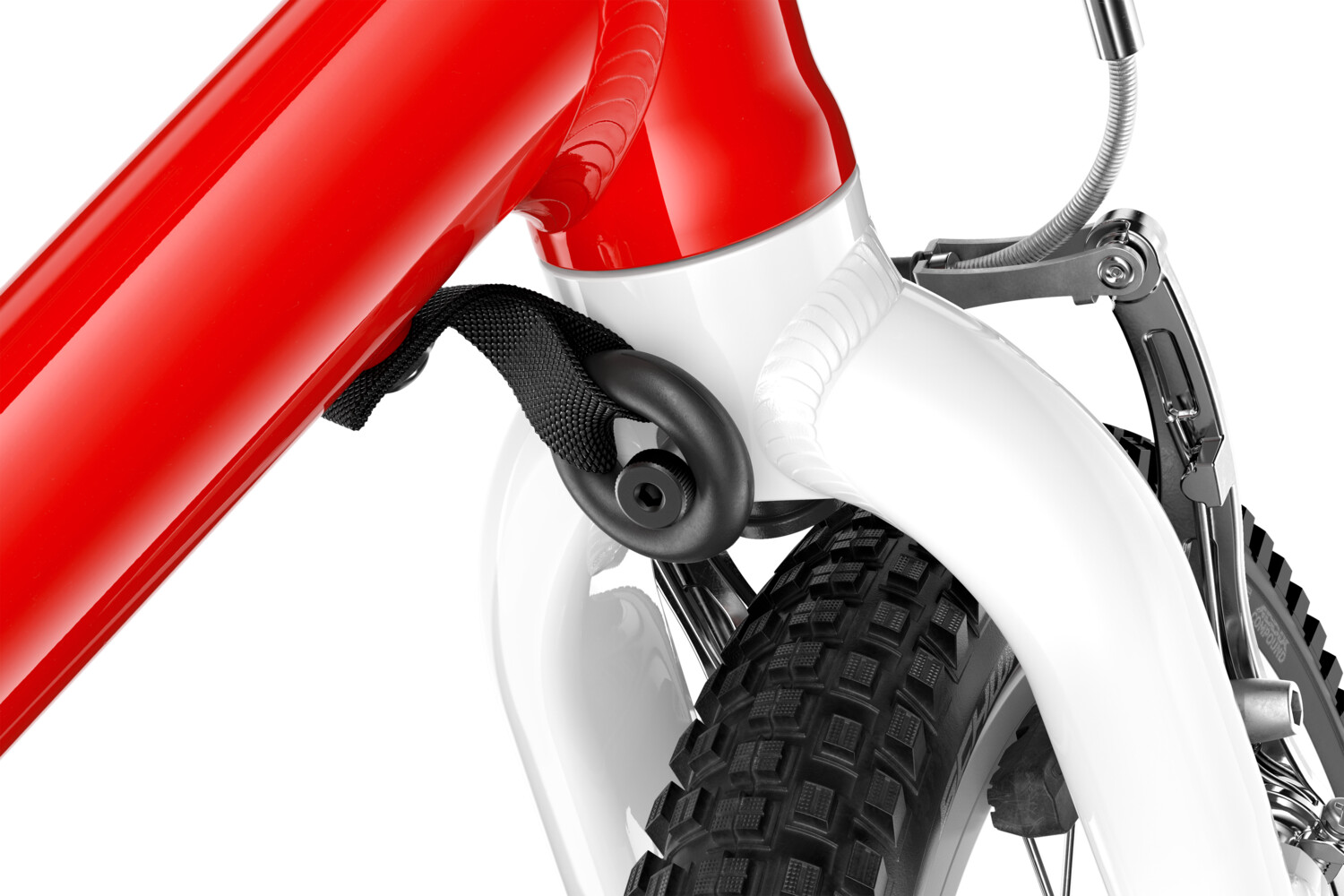 woom steering limiter
The woom steering limiter is an important safety feature developed by woom. It prevents the handlebars from overturning, helps children ride straight and therefore reduces the risk of accidents.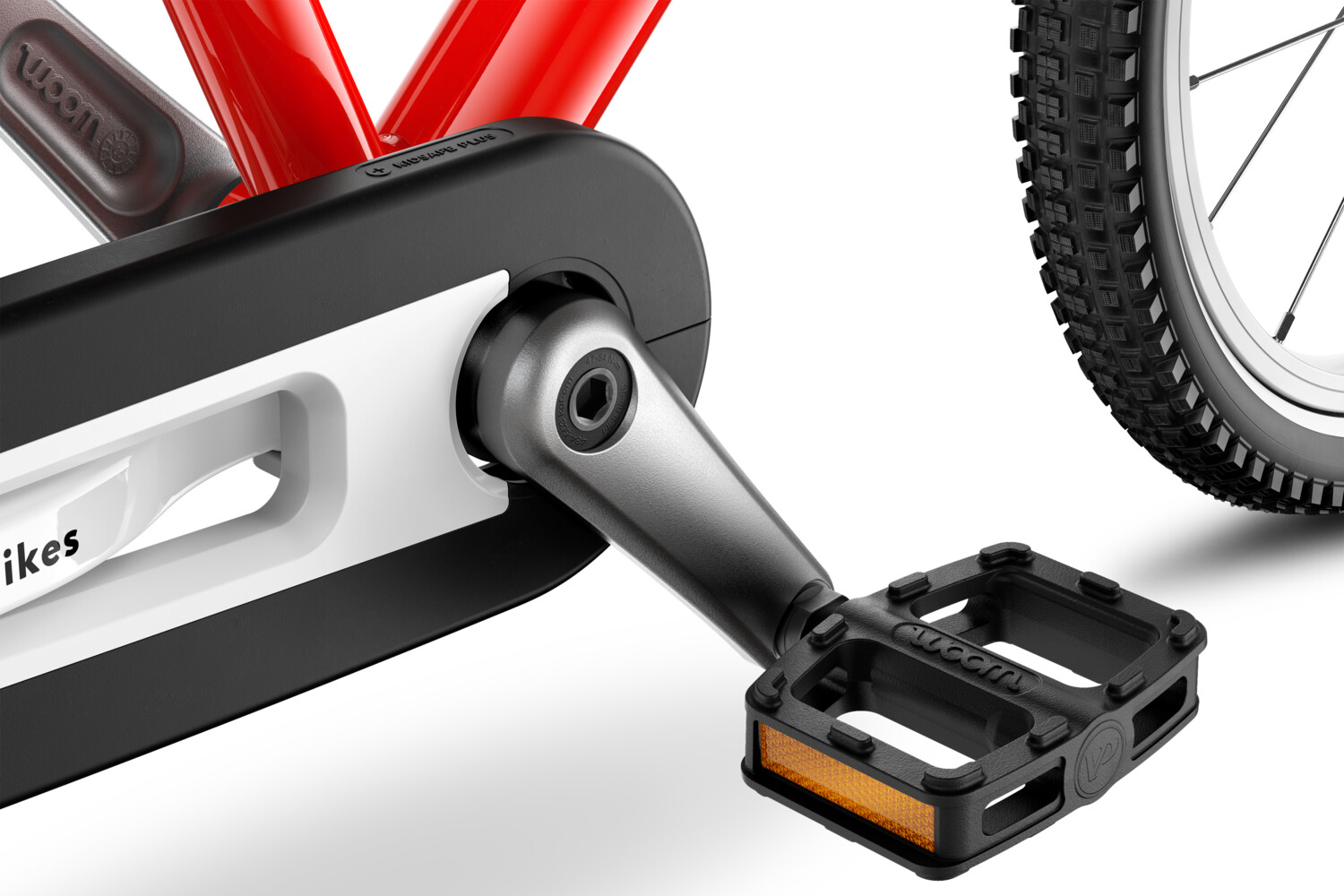 woom crank
The crank length and distance between the pedals are ergonomically adapted to fit children's bodies. This results in an optimum stance and very natural movements. Pedalling? A piece of cake!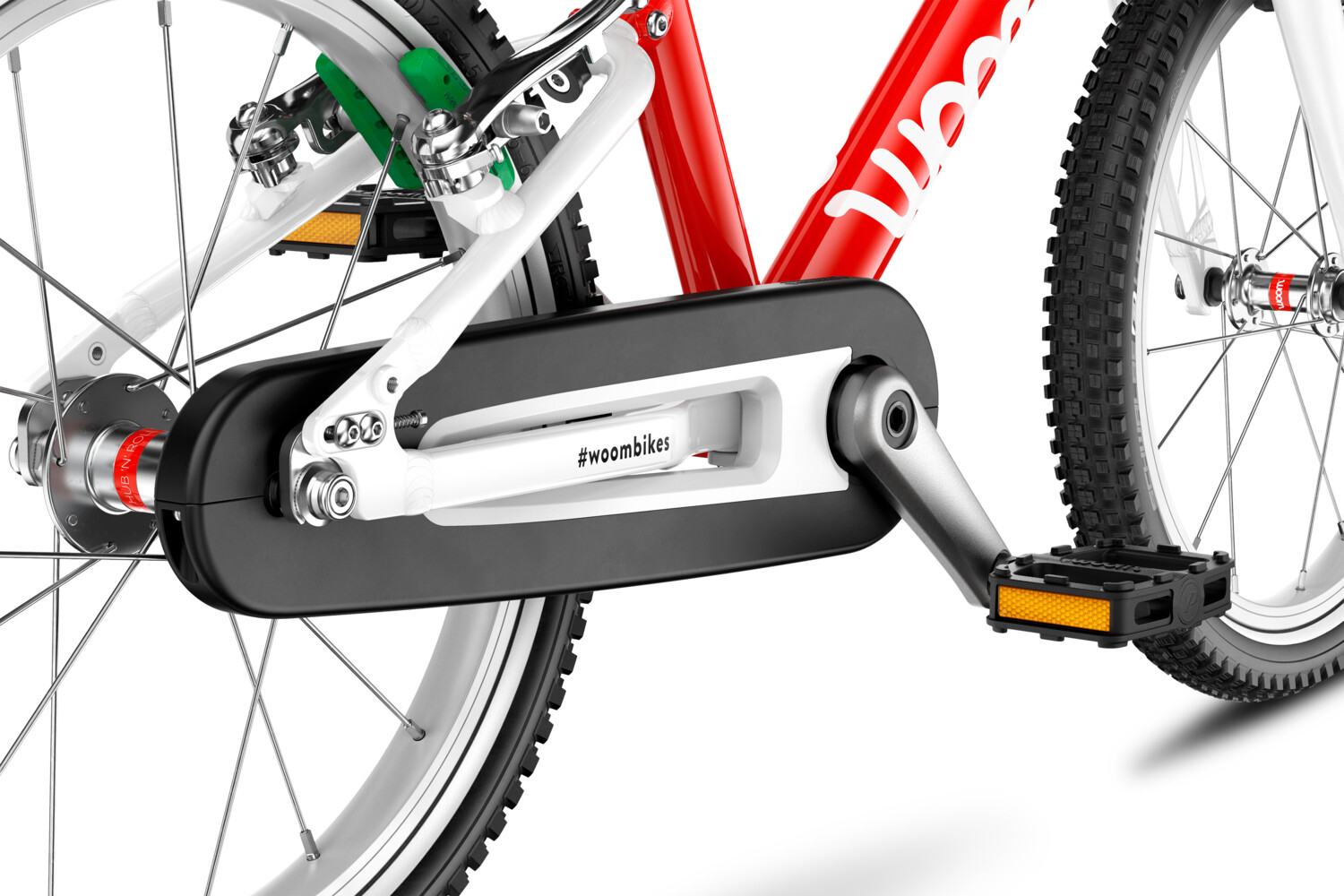 Chain guard
The closed chain guard not only has an eye-catching stylish design but also boasts a compact and sturdy construction. It offers excellent protection against injuries and dirt. Goodbye oil stains!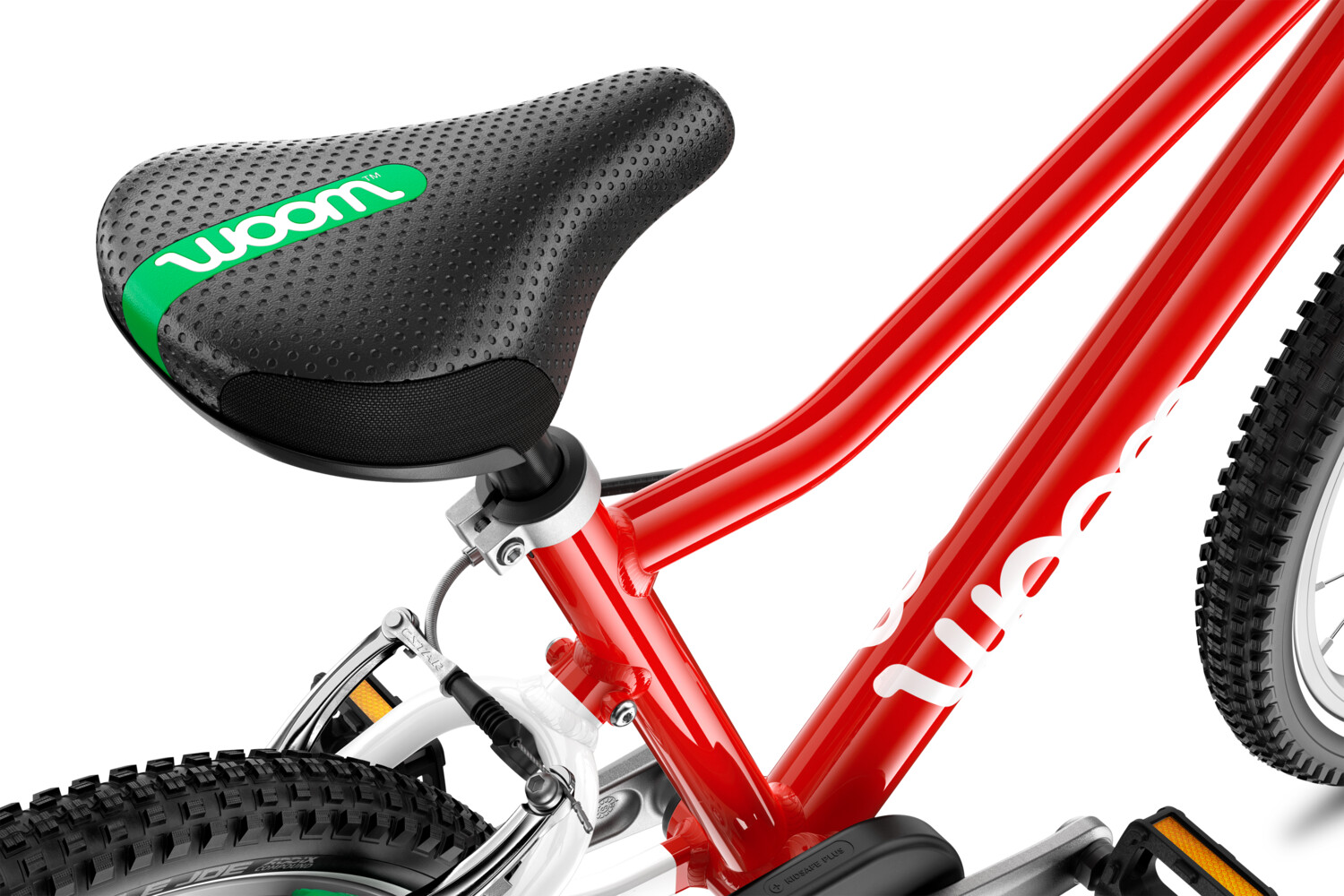 woom saddle
The saddle is one of the most important points of contact between the child and the bike. It significantly affects the feeling when riding. That is why woom's saddle is designed to fit the pelvis of children in this age group and give them an upright riding position. Perfect for a unique riding experience!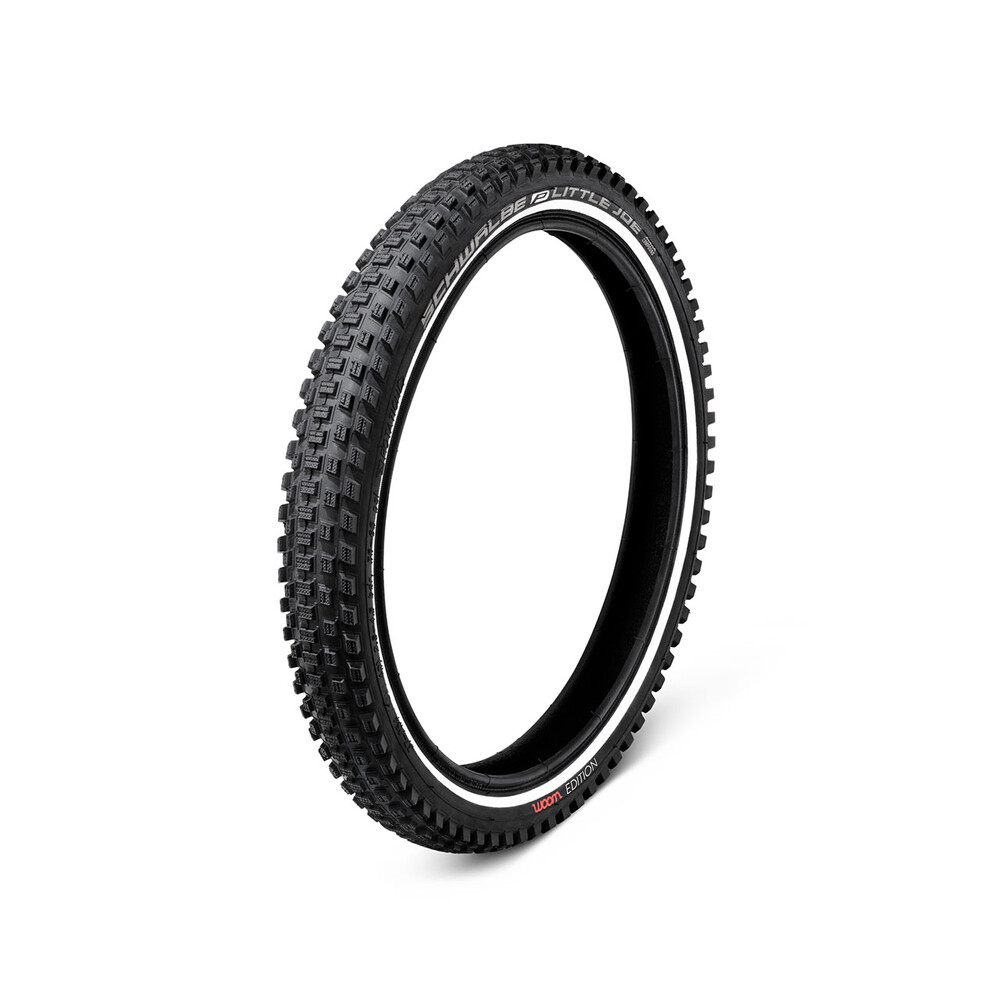 woom low-resistance tyres
Tyres have a major influence on how a bike rides. That is why for woom's bikes they have chosen tyres that can be used for a broad variety of terrain. Whether you child is riding on tarmac, gravel or dirt, the lightweight tyres will ensure maximum grip in any weather and on any surface, whether your child is riding straight or making turns.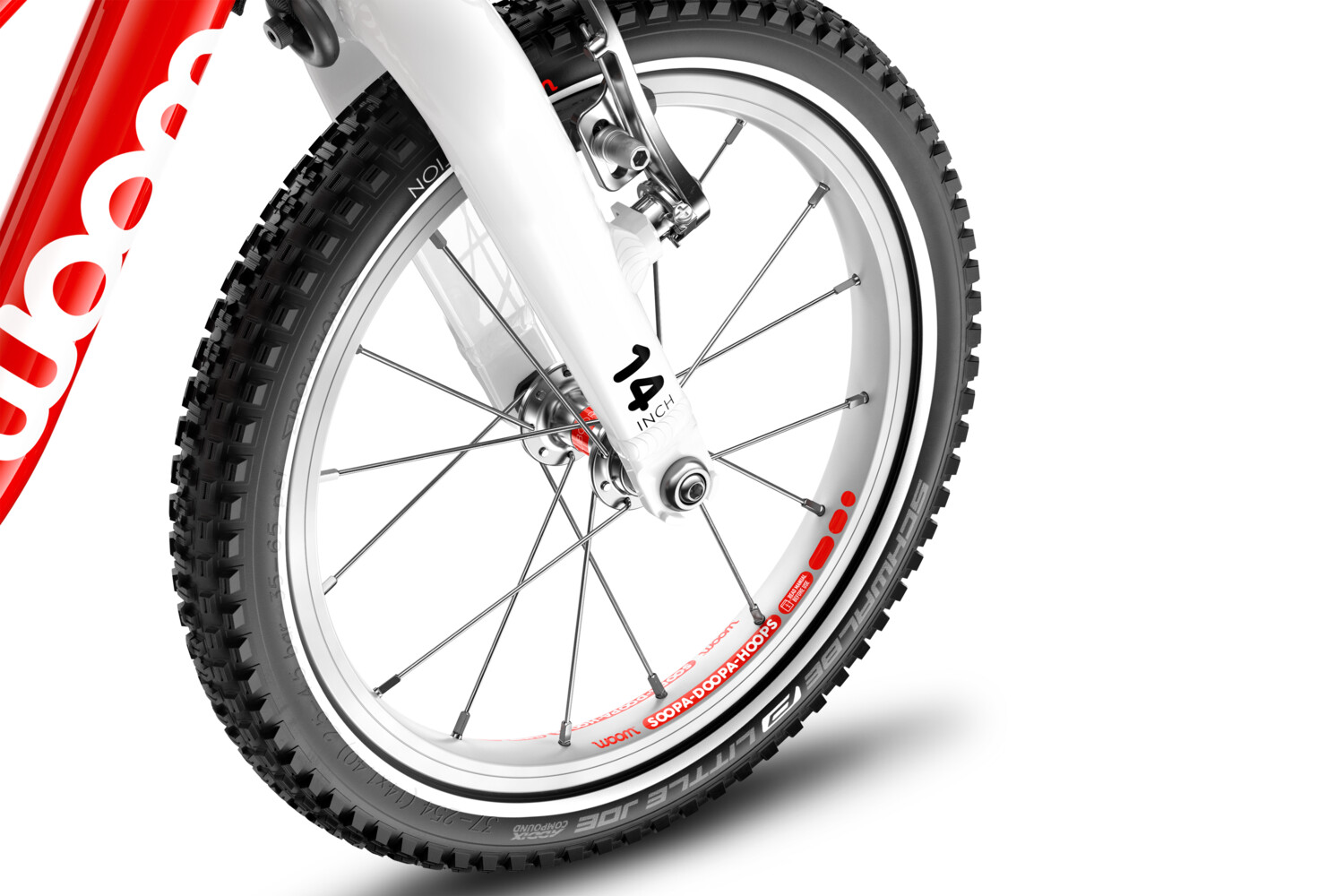 woom wheels
To roll smoothly and quickly, a bike needs good wheels. And that is exactly what woom have given their bikes. It is their individual components that make the woom wheels so unique: from the smooth-rolling hubs to the high-quality stainless spokes and exclusive SOOPA DOOPA HOOPS rims.
Sizing
Sizing a child's bike is never as clear cut as just going from an age, height or even an inside leg measurement. There are many other factors to consider such as rider ability, strength and confidence. That's why we always recommend you visit our showroom to try one and receive advice first if possible. If not, give us a call and we're happy to advise over the phone.
Contact us
That said, the below can be used as a general guide to get an idea of which size you might be looking at. Each measurement should be used as an absolute minimum requirement, with the knowledge that the seatpost always has plenty of upward adjustment. If you think your child falls "between sizes", always go for the smaller size. You can make a bike "bigger" by lengthening the seatpost or moving the handlebars, but you can't make it smaller.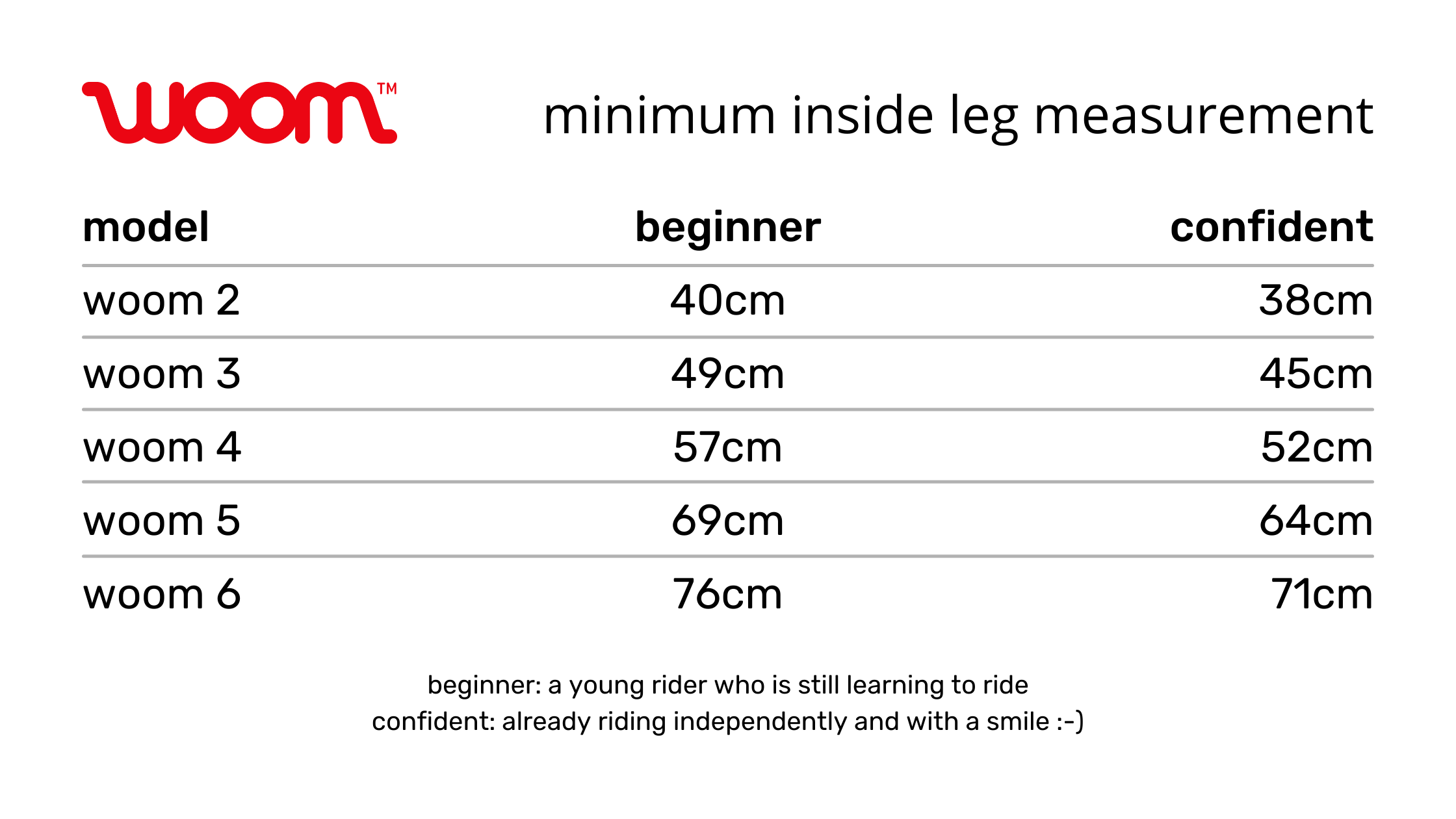 Make an Enquiry

Customer Reviews

Delivery Information