Frog Bikes
Lightweight
The simple fact is that the lighter a bike is the easier it is to ride. When cycling is easier it's more fun and that's why getting a lightweight bike is paramount to giving your child the best possible start to their cycling life!
All Frog bikes feature lightweight 6061 heat treated aluminium frames and forks. Aluminium is the ideal material for children's bikes as it maintains low weight and high strength whilst keeping to an affordable price. The bulk of the other components such as the handlebars, stem, cranks and seatpost are also made from alloy, making Frog bikes a great lightweight entry to cycling.
Making it Easy
On top of being lightweight, Frog bikes have been specifically developed for the anatomy of a child. It won't surprise you that children aren't simply scaled down adults, so their bikes shouldn't be scaled down adult's bikes.
When Frog set about their mission to create better kids' bikes, they teamed up with sports scientists and engineers to make sure every part of the bike was scaled correctly for children. Custom parts are used throughout to make sure children are as comfortable as possible - short reach brake levers, a narrow q-factor (bottom bracket/crank width), shortened cranks for easy pedaling and much more. Since their inception in 2013 Frog bikes have continued to develop and improve - an ongoing progress towards perfection.
Frog Bikes at Cyclesense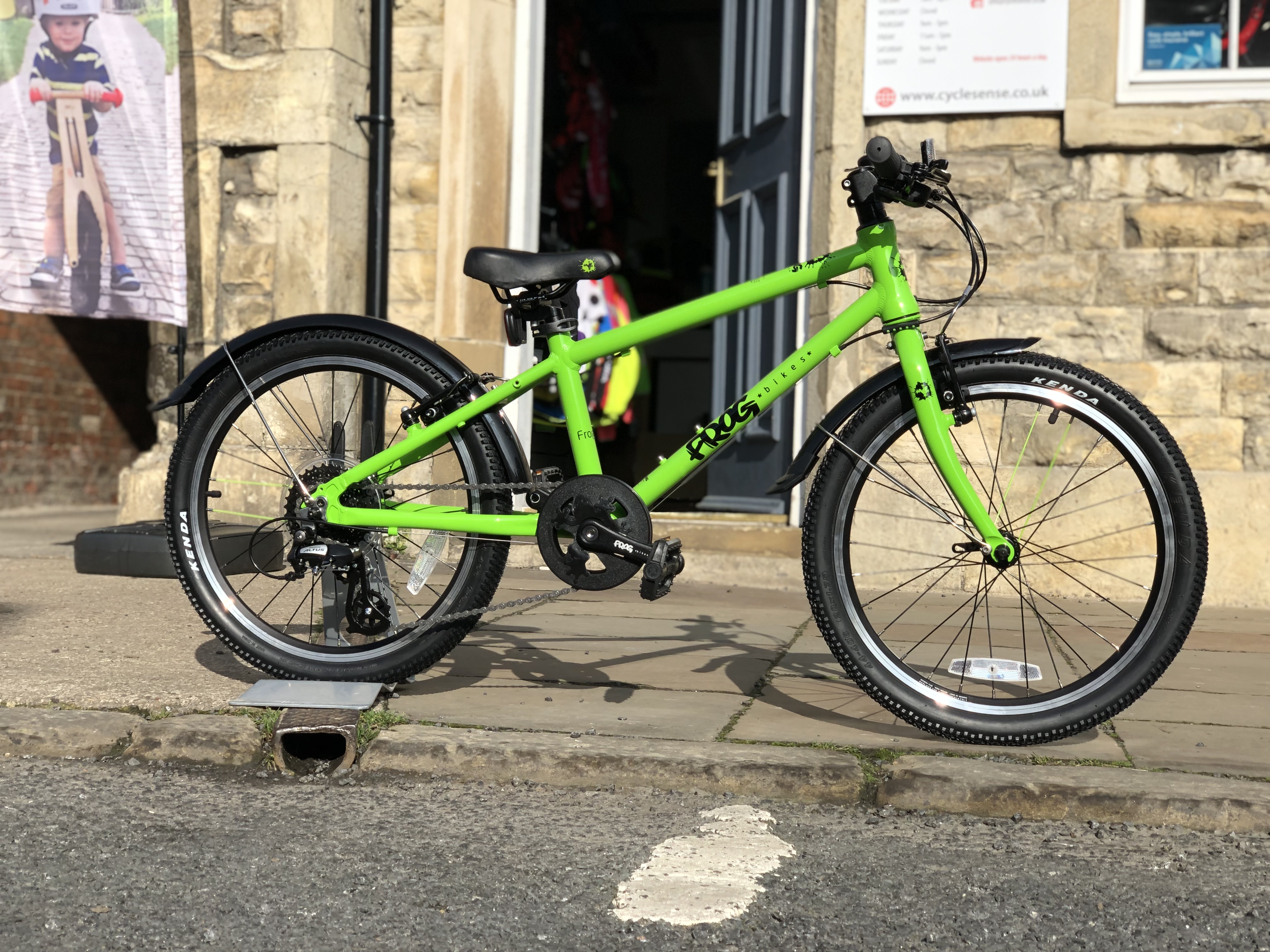 At Cyclesense we have been with Frog bikes since the beginning. We try to carry as much stock as we can - usually with multiple colour choices in every size.
We're very experienced at fitting Frog bikes to children and we understand that there is no one size fits all rule such as height or age. We will make sure you get the correct size depending on where your child is at in their cycling journey - whether they're just getting started or they've been happily pedalling for years!
Frog Bikes Shipping
Cyclesense offers a premium Frog bikes shipping service. We fully assemble the bikes and set up the brakes and gears so that they're ready to ride when you receive them.
Usually to get them back into a box for the courier we will have to take the pedals and handlebar off, but we provide full instructions on any reassembly you would need to do.
Our team take the utmost care when packing your bike, to make sure it arrives with you in top condition.
Measure at Home
Measuring at home to get your child's inside leg measurement couldn't be easier:
Stand your child with their back to a wall in their socks. Place their feet a hand's width apart.
Push a book up the inside of their leg as high as is comfortable.
Ask your child to move away from the wall and measure from the top of the book to the floor in centimetres.
Contact us with the measurements you have and we will be able to advise on sizing based on that and the child's experience.
Contact Us
The Bikes
First Pedal Bikes
The two first pedal bikes are an ideal entry to cycling for your little one. These are lightweight, properly scaled and strudy bikes that can take a beating. They're single-speed because at this point we just want kids' to get pedalling and enjoy it with as few complications as possible.
Hybrid Bikes
Once you get to 20" wheels we start to intoduce the gears to help keen explorers go further and faster. Frog hybrid bikes will do a bit of everything - they're fast and light on the road but more than capable of holding their own for some light off-roading too.