Cyclesense Time Trial League Results - Round Thirteen 26/07/2018
Friday 27 July 2018, Filed in: General
The results are in from round thirteen of our TT league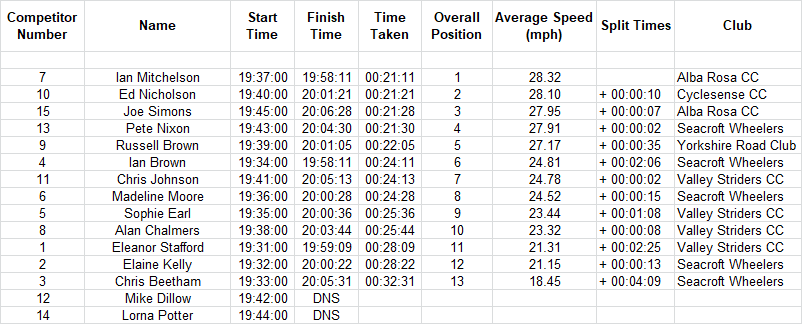 Round 13 took place on the V212 near Boroughbridge amidst a thunderstorm. The low air pressure brought by the storm seemed to help riders hit some fast times.
Ian Mitchelson (Alba Rosa CC) won again! Ed will be getting nervous...
Both riders are currently tied on 5 wins and 2 2nd places as their best 7 results. Ed has 2 events left to race, whereas Ian has just 1 remaining. Whatever happpens it will be as close as the league has ever been come the end of the season.
Thank you to Wetherby Wheelers for marshalling.
Next week Alba Rosa are marshalling the 15 mile event on the V328 near Tadcaster (start is at the top of Grimston hill again).
If you'd like to download the spreadsheet with the results, this is available via Dropbox by clicking here.
Tags: cyclesense time trial league,

Shop with confidence.