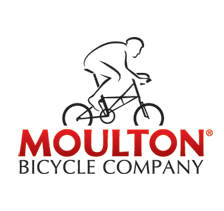 The Moulton Bicycle is the original full-suspension, detachable, small-wheeled, high performance bike, world renowned for their speed, efficiency, durability and comfort.
Moulton are handcrafted in England and have been engineering bike for over 50 years.
Features
The Moulton bicycle has a unique design with a lot of features that stand out against other bicycles. In the 1950's, Alex Moulton defined the key features that make the Moulton Bicycle different such as: small wheels, suspension, stiff unisex frame, adaptability to suit the intended use and an innovation in design, engineering and manufacturing. These principles are still true today, but the bikes are improved in every way now being; lighter, stiffer, faster and more comfortable, as well as easier to transport around.
Small Wheels
- Small wheels with high pressure tyres are important to the Moulton design. The coupling of the lower rolling resistance of high pressure tyres and the lower aerodynamic drag of small wheels, allows the bicycle to faster with less effort.
Full Suspension - Full suspension is a key feature of all Moulton bicycles, in order to accomodate the hard ride of the ultra-rigid frame, strong wheels and high pressure tyres. The combination of advanced suspension and small wheels delivers superior comfort and road holding
Stiff Space Frame - A stiff frame ensures accurate wheel tracking for secure road holding and cornering stability. This frame fits riders of all sizes and the low step-through makes it a uni-sex bike.
High-Quality Construction - The Moulton bikes' frame and forks are hand-brazed in the UK by a small team of highly skilled craftsmen. Moulton frames are designed to last, with many bicycles having been ridden for over 50,000 miles.