PERE PERFORMANCE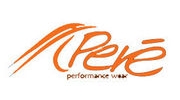 Named after the Peregrine falcon which is renowned for its speed, being the fastest member of the animal kingdom.

Pere Performance wear has been developed for children between the ages of 5yrs to 12 yrs.
Up to now young athletes have struggled to find sportswear like their parents wear, with that in mind Jackie Prothero and Lynne Karp have designed and produced a range of performance wear for children's cycling, running and triathalon.
PERE PERFORMANCE Childrens Clothing
Unfortunately we don't have details for the PERE PERFORMANCE website, but if you
Contact Us
here at the shop, we'll gladly give you details of any products you're trying to find.